Traditional villa plan design
The traditional villa plan is designed in European style.
This villa has a very beautiful and spectacular flooring.
The foundation of this villa is 500 square meters. The design of the traditional villa plan is open and free.
In this design, all public spaces are connected to each other.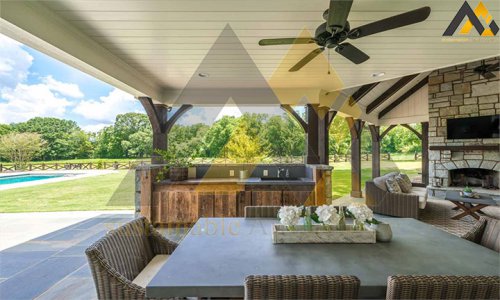 The use of large windows in the design of this villa has caused all spaces to have adequate light throughout the day.
there is large swimming pool In front of the villa with all facilities and equipment.
There is considered a drinking bar and Indoor living room around the pool.
The main features of the traditional villa plan design are the combination of outdoor and indoor space.
The use of large terraces and green spaces in the interior design has doubled the beauty of the villa.
A beautiful fireplace is used in the interior design of the villa. In the design of this traditional villa plan, the second floor includes private spaces.
On this floor, there are bedrooms with all amenities. The rooms have a private dressing room, master space and large terraces.This villa is designed and implemented equipped with all amenities.
The exterior has a covered front porch as well as a three-car garage attached to it.
ArchitectLux
You can make better decision by observing this
sample works and also other samples.
So it can help you to choose plans, residential and commercial designs.
"ArchitectLux" design team is ready to accept your design orders and.
also you can consult with them freely.
The presented sample works is a guarantee to show that
website ArchitectLux design team is professional enough.