Luxury duplex villa's map designed and executed in a land with 1346 m2
The overall area substructure of the building is 1484 m2.
This villa with designed in two storeys has 5 bedrooms with complete welfare amenities.
It considered eight bathrooms and guest restroom in this villa.
It designed a lobby in luxury duplex villa's map in the ground floor.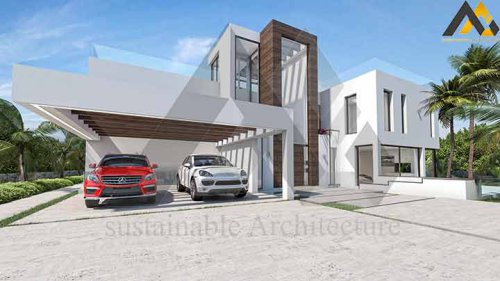 It considered a spiral staircase device to reach the higher floors in the villa's lobby.
It used an open and free plan in designed this villa.
The kitchen and diningroom are in one side and capacity of two cars in the outer space of this villa.
It designed a very large pool with complete facilities and welfare amenities in front of the villa.
It considered a sitting space and a bar with height differences for family gatherings beside the pool.
The privacy spaces stay on the second floor of the luxury duplex villa's map.
The bedrooms with complete facilities and welfare amenities stay on this floor.
Each bedrooms has it's own dressingroom, bathroom, restroom and terrace.
One of the main properties of this villa is designing the large terraces for each space privately.
Large terraces make a very beautiful view and eye-catching for the residents
ArchitectLux
You can make better decision by observing this
sample works and also other samples.
So it can help you to choose plans, residential and commercial designs.
"ArchitectLux" design team is ready to accept your design orders and.
also you can consult with them freely.
The presented sample works is a guarantee to show that
website ArchitectLux design team is professional enough.