3 storey villa
Luxury 3 storey villa design stay on a very large and elegant garden.
This villa in the middle of the nature has very special visions.
The villa designed in three levels and included 5 bedrooms with complete welfare amenities.
It considered six bathrooms and restrooms for the guests in this villa.
Designing the luxury three storeys villa designed as an open and free plan.
It's in a way which used at least partitions and separative walls in designing this villa.
Using large and wall to wall and pop-up windows makes the beauty of this villa more than usual.
 It designed bedrooms, playing space, solarium space with complete facilities in the basement floor.
The ground floor included the kitchen, diningroom, livingroom and bedroom for the guests.
The public spaces in this storey have the direct relations to each other.
There's a large pool with complete facilities in this floor.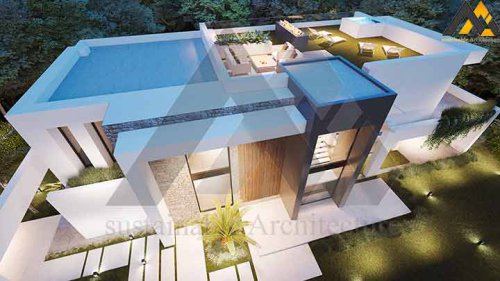 It considered a sitting space and bar for family gatherings beside the swimmingpool.
The private spaces stay on the second floor of the three storey villa's design.
The bedrooms included the privacy dressingroom space, masters and large terraces.
It used very large and elegant terraces in designing the luxury three storeys villa's plan.
It designed a roof garden with complete facilities.
The roof garden included the bar space, sitting space and swimming pool.
ArchitectLux
You can make better decision by observing this
sample works and also other samples.
So it can help you to choose plans, residential and commercial designs.
"ArchitectLux" design team is ready to accept your design orders and.
also you can consult with them freely.
The presented sample works is a guarantee to show that
website ArchitectLux design team is professional enough.