Wonderful Plan of a two storey villa
villa with gabled roof
Description
wonderful Plan of a two storey villa
The  wonderful plan of a two storey villa have been designed and executed on two floor by Architectlux designing team.This executive plan designed and executed in a land with 24meters width and 30.70 meters length and with area of 736.80 meters. The villa has 4 bedrooms, 3 bathroom and toilets. Infrastructure: 408.40 square metersFirst floor area: 195.40 square metersSecond floor area: 213.00 square meters.
First floor:The first floor plan has a living and dining room , kitchen, guest bedroom, bathroom, laundry and a power house.
Second floor:the second floor plan has 3 bedrooms, 2 bathrooms and toilets.
Ceiling cover: gabled roof
Gable roof:
In any building before the interior design shows off the architect art, it is its exterior façade that can attract or alienate the audience to itself.One of the things that have a great impact on the facade and beauty of any project is its roof covering.Nowadays the use of new materials has helped people to bring double beauty to their projects.
factors
Many factors are involved in explaining the benefits of such coverings, which we will mention below:One of the concerns of Iranians living in cold and tropical or windy regions of the country is the issue of energy loss or roof damage due to strong winds which , In this regard, new technology has come to the aid of the consumer and pebble tiles have been developed to solve this problem.
advantage of gable roof:
Some of the advantages of this roof is:
• Beauty, color variety, high quality and workability retention
• Light weight and earthquake resistance
• Resistance to strong winds and hail
• Fire resistance due to the use of non-combustible materials
• Prevents sticking dust due to the acrylic surface coating
This executive plan which is designed as a package by Architectlux designing team has a site plan, floor furniture plan, measurement plan and executive details. There are two shears, along with four façades in this package.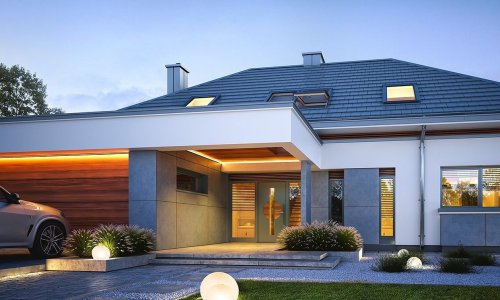 ArchitectLux
You can make better decision by observing this sample works and also other samples like wonderful Plan of a two storey villa.
So it can help you to choose plans, residential and commercial designs
"ArchitectLux" design team is ready to accept your design orders and also you can consult with them freely
The presented sample works is a guarantee to show that website ArchitectLux design team is professional enough