residential executed plan with 11 width
Two storeys residential plan
2Floors
with 11
Concrete building
Description
residential executed plan with 11 width
The residential executed plan with 11 width designed and executed by "ArchitectLux" designing team.
This residential plan  designed in a storey on the ground floor.
It has the area more than 300 m2. This project designed completely.
It included all architectural spaces to live a family.
All standards and dimensions for a residential house is observed.
This building land access to the street from one side and the residential plaques from three sides.
The ground floor
It designed a beautiful and charming entry for this two storeys residential map.
It considered an alcove in the yard for family gathering.
It considered a fountain and green spaces beside these them which make very beautiful places.
The ground floor of this project included a kitchen, diningroom, livingroom, Tv space, bedroom for the guests and restrooms.
It used the semi-circle stairs and a lift from the ground floor to the upper floor.
Two storeys residential map plan analysis
The kitchen's decoration designed as open and free form and has a wonderful view to the livingroom.
It considered the diningroom beside the kitchen.
It makes this possibility to the lady of the house to welcome the guests and family members.
The livingrooms devided into the public and semi-public livingrooms.
The semipublic livingroom makes and independent space for any person who wants to watch Tv.
To rest in this beautiful place calmly. The public livingroom is also suitable for the guests.
This space designed by "ArchitectLux" designers.
It used the 3-D wall-papers in the interior decoration desinings.
The interior spaces lightning is very suitable and elegant.
The two storeys residential first floor's map included the bedrooms spaces, kitchen, sitting and Tv space.
The sitting space has a large terrace faced to the main street.
The residential façade design
The two storeys residential map's façade designed as Roman's style.
The columms used in this façade makes the identity to this building and makes it's beuty more than before.
The flower box which designed in the first floor of this building is for it's verdure.
It used the travertine stone as the main material of this building's façade.
This executed plan made by "ArchitectLux's" team as a package.
It has site plan, storeys decoration plan, measuring plan, framing plan, installation plan, computing the relative wall, foundation plan, slope plan and the details and specifications.
There's a façade of the building in this package.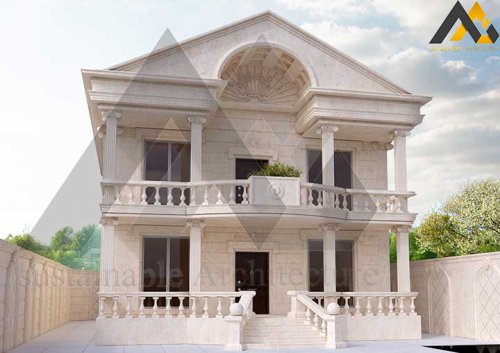 ArchitectLux
You can make better decision by observing this sample works and also other samples
So it can help you to choose plans, residential and commercial designs
"ArchitectLux" design team is ready to accept your design orders and also you can consult with them freely
The presented sample works is a guarantee to show that website ArchitectLux design team is professional enough
Additional information
| | |
| --- | --- |
| Category | Villa |
| Floors | 2to4 Floors |
| Location | South |
| Width of the Ground | 10to12 meters |