Residential cottage
Residential cottage design
Description
Residential cottage
Residential cottage has been implemented on a land area of ​​570 square meters.

The villa building covers about 380 square meters of this area.

The infrastructure of this gable villa is about 460 square meters.

The residential cottage is designed as a duplex and 4 bedrooms.

The location of this duplex villa is south.

The width of this residential cottage design is 16.5 meters.
Ground floor
On the ground floor of the residential cottage there are 3 bedrooms, living room, dining room, laundry room, terrace and bathroom.

All the bedrooms on this floor have a wardrobe and the private bathroom of this gable villa is located in the corridor next to the bedrooms.

In the residential cottage design , the terrace has a very beautiful fireplace that warms the family and friendly surroundings.

Two entrances have been designed for this floor, the first entrance has a laundry room and the second entrance has a guest bathroom.
First floor
The first floor of the residential cottage has an attic with a wardrobe.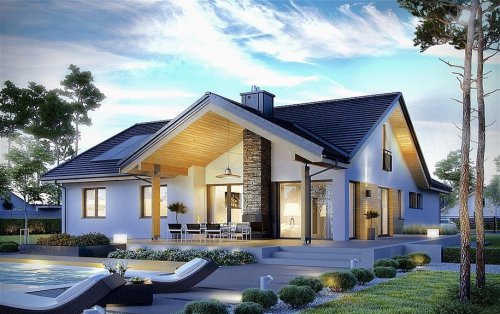 ArchitectLux
You can make a better decision by looking at this example of works and other examples like this residential cottage .

So it can help you in choosing plans, residential and commercial plans

The "ArchitectLux" design team is ready to accept your design orders and you can also consult with them freely

The portfolio provided is a guarantee that the ArchitectLux website design team is professional enough