Duplex residential building map
The executed residential plan with 13 width
2Floors
with 13
masonry building- concrete building
Description
Duplex residential building map
Duplex residential building map executed and designed by "ArchitectLux" designing team.
The executed residential plan with 13 width designed in a land in about 600 m2
This plaque accessibility position is from north part. The structure of the building is masonry and concrete skeleton.
The building designed as duplex form. It considered a parking in ground floor that has the capacity of one car.
The accessibility to the higher floors is from parking part which has done by a four sides stair.
Plan analysis
We enter to the first floor from yard side by eight stairs in this duplex residential building map.
This floor includes the living space, kitchen and three bedrooms. The entry part of this house ends to the livingroom.
The livingroom designed as a rectangle shap which makes an elegant and comfortable form for decorating it and also has a saitable lighting from the yard side.
It considered a bedroom beside the livingroom which designed a void beside it because of not having enough light.
The kitchen designed as an open form which makes a suitable circulation for this house.
It considered a stairway beside the kitchen which ends to the bedrooms.
These two bedrooms, a bathroom and a store are in the private part of the house.
One of the bedrooms has northern light and the other one has southern light.
It designed a restroom in the yard to convenience of the house residents.
The green spaces which considered in the yard make an elegant view for the residents.
package
This duplex residential building map made by "ArchitectLux" tem as a package.
It has site plan, storey decorating plan, axis plan, measuring plan, slope plan, foaming plan, relative wall computing and installation plan.
There's a cross and longitudinal section and a façade in this package.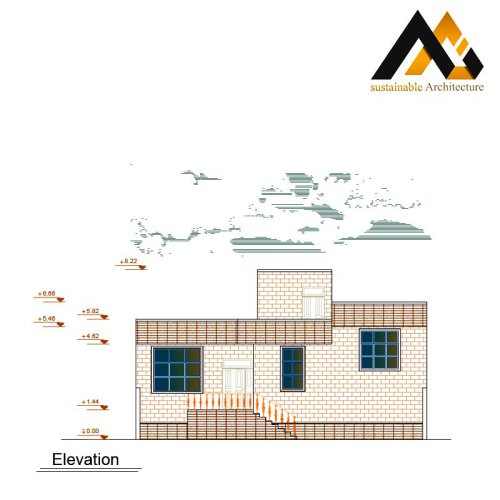 ArchitectLux
You can make better decision by observing this sample works and also other samples
So it can help you to choose plans, residential and commercial designs
"ArchitectLux" design team is ready to accept your design orders and also you can consult with them freely
The presented sample works is a guarantee to show that website ArchitectLux design team is professional enough
Additional information
| | |
| --- | --- |
| Category | Villa |
| Floors | 2to4 Floors |
| Location | North |
| Width of the Ground | 12to15 meters |