Big Palace
Two floor palace
Description
Big Palace
This big palace has been designed and built on a land with an area of ​​3421 square meters.

The building of this residential villa covers about 1325 square meters of the total area of ​​this land.

This two floor palace has 1989 square meters of infrastructure.

The width of this 7 bedroom palace is 58.5 meters.

The location of this two floor villa is south and access to the building is possible from directions: north and south.

The facade of this villa is classic and it is made of stone.
Ground Floor
The entrance of this palace is from the south, which leads to this luxurious classic building by car.

There is a big hall at the beginning of the entrance which is also used as a living room.

To the right is the living room and breakfast table, which has direct access to the entrance terrace.

On the left side, there are circular and elegant stairs, and in front of the stairs, there is an elevator and two storage rooms on both sides of the elevator.

This floor of the big palace has a lounge and TV and a chessboard that has direct access to the big north terrace.

There is also a big dining hall and an island kitchen with two storage rooms for food.

Next to it is a bathroom and a big living room and music area that has direct access to the east terrace.

In this two floor palace, in a big corridor and shared with the living room, there is a guest bedroom that has a master and closet.

On the west side, there is a work room and study and a large library, which also has a living area.

Next to it, there is a game and entertainment hall, and in front of the study room, there is a large and well-equipped sports hall that has a bathroom.

On the east terrace, with a separate staircase from the south, there is a separate complex from the main building, which has two bedrooms with a bathroom for staff.

There is a large storage room next to the kitchen.

In this two floor palace, there is a big laundry with a wardrobe for clothes and furniture.

On the big north terrace, which is a few steps lower, there is a big, beautiful and open pool, which is surrounded by several rest areas.

Next to it there is a big massage and relaxation room and a full living room with toilet.

The large circular pavilion, which has a living room and beautiful views, is located near the north terrace.
First floor
This floor of the two floor palace has a circular staircase in the form of a duplex.

Part of it is space for entertainment and a chess table.

On this floor of the big Palace , there are two warehouses on either side of the elevator.

There are four bedrooms on this floor that have a master and closet and a balcony.

The largest bedroom, located on the west side and owned by parents, has a private living area and a big roofed balcony with great views.

The living room is located in the center and has a big covered balcony that is shared with the bedroom.

The reception hall has different and special furniture and also a space for music with a big and beautiful piano that has a private balcony with a great view.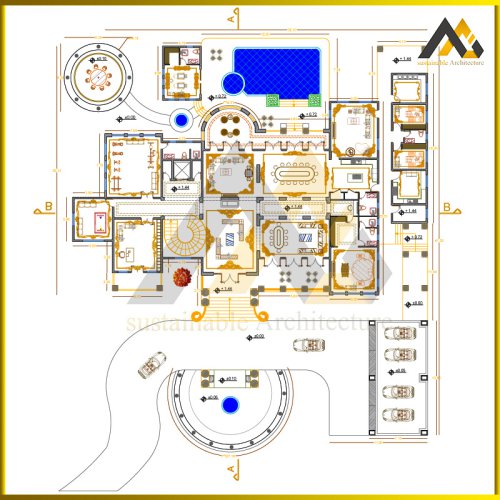 Villa
Villas are beautiful houses that are open on all four sides and are not limited to other buildings. In addition, they have a good view.

Villas are usually built around the cities and climates of the country and are often used for recreation.

Of course, villas are not built in these areas alone; Even some villas are built to order by the employer in urban areas.

Among the projects designed by architects, the most creativity is used in the design of villas

Because when designing a villa, the plan of the villa, unlike urban buildings, the designer is freer and can use more of his taste and creativity.

As a result, the designs made by villa designers in the field of villas have a great variety of art, beauty, elegance and precision.

Big Palace has been prepared as a package by the design team of the architectlux.

Site plan, floor furniture plan, measurement plan and executive details. There are two cuts, along with two views in this package.