Description
6 floor plan
This 6 floor plan has been designed and executed by the design team of Architectlux.

This 6 floor design is surrounded on three sides by residential license plates and has access to the alley from only one side.

The facade of this 6 floor building is a classic facade.

The width of the 13-unit plan is 16.30 meters.
Ground Floor
The ground floor of this 6 floor plan is dedicated to parking.

Parking of this 6 floor design has capacity of 13 cars.

Access to the upper floors is provided by a staircase and elevator.
First to fourth floors
The first to fourth floors of this 6 floor plan are designed as a brigade.

There are three residential units on each floor and in total this apartment has 13 residential units.

All units have two bedrooms. Each unit includes a living room, kitchen, two bedrooms, bathroom and toilet.

In this 6 floor design , natural light has been used in the units as much as possible.

In any place where there is a restriction, skylights have been used to provide sufficient light to the building.

The open kitchen is in a good position from the house and has created a good circulation.
fifth floor
The fifth floor of this 6 floor plan includes a big three-bedroom unit.

This unit has a living space, TV space, kitchen, three bedrooms, terrace, bathroom and toilet.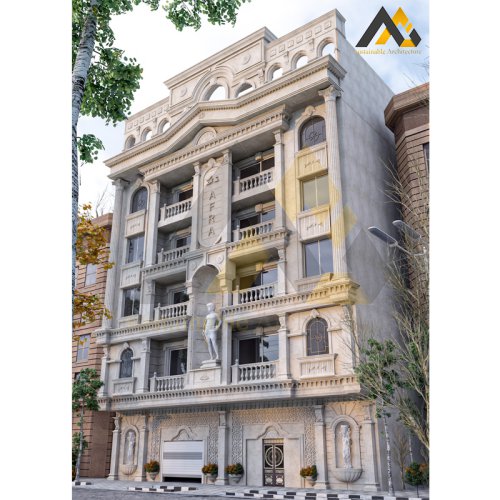 ArchitectLux
You can make better decision by observing this sample works and also other samples

So it can help you to choose plans, residential and commercial designs

"ArchitectLux" design team is ready to accept your design orders and also you can consult with them freely

The presented sample works is a guarantee to show that website ArchitectLux design team is professional enough.

6 floor plan , which has been prepared as a package by the design team of ArchitectLux,

has a site plan, floor furniture plan, axis plan, slope plan, Arrow plan, measurement plan and executive details.

This package has a map of mechanical and electrical installations. Also, two sections and a facade are included in this package.