Modern and new style villa designed and executed in a land with 1220 m2. The allover substructure and area of this villa is 690 m2.
The villa which designed in three levels has 7 bedrooms with complete welfare amenities.
There are 9 bathrooms and restrooms in this plan.
Because of being in a slope land, this villa has a special design.
This villa designed as step to step way in a beautiful way.
The green spaces in front of the villa are also designed step to step.
This kind of designing makes a very elegant eye-catching for the residents.
The designing of this villa is free form and used at least blades and partitions with obsvering the privacy points.
One advantage of these kinds of designing is changing the small spaces into the large and light spaces.
Communicating in these kinds of villas is done in a better way.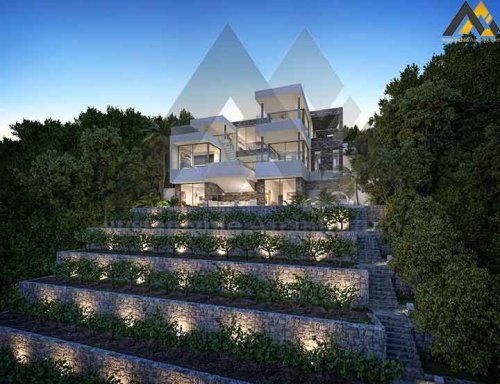 The bedrooms stay on the lower storeys in modern style villa's plan. The bedrooms have complete welfare amenities.
Each bedroom has its own private dressingroom, bathrooms, restrooms and terraces.
It designed a swimmingpool with complete facilities between the bedrooms.
It designed public spaces like: livingroom, diningeoom and kitchen in the last floor of the Modern and new style villa.
The parking stay on this storey which has the capacity for two cars.
ArchitectLux
You can make better decision by observing this
sample works and also other samples.
So it can help you to choose plans, residential and commercial designs.
"ArchitectLux" design team is ready to accept your design orders and.
also you can consult with them freely.
The presented sample works is a guarantee to show that
website ArchitectLux design team is professional enough.