Design of a two storey four bedroom villa
Design of a two storey four bedroom villa has been implemented on a land with natural and very amazing views. This villa, which is designed on two levels, has four bedrooms with all equipment. There are three bathrooms in this villa. This map has an area of ​​350 square meters.In designing the plan of a two storey villa, an arched covered porch has been considered.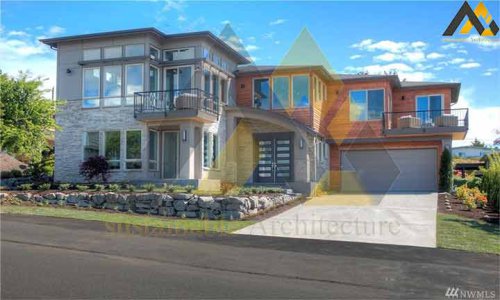 A parking space for two cars is designed for this house. All private spaces in this villa are located on the second floor.
An island kitchen is designed in this villa. The dining room is adjacent to the kitchen.
The use of large windows throughout the villa has been able to provide adequate and adequate lighting to the house trough the day.
In designing a two storey villa plan, special spaces have been considered. All bedrooms are designed with amenities on this floor. The rooms have a private dressing room, bathroom and toilet and terrace.The terraces are large and have a beautiful view of the garden. The highest facilities and equipment have been used in the design of this villa.
ArchitectLux
You can make better decision by observing this
sample works and also other samples.
So it can help you to choose plans, residential and commercial designs.
"ArchitectLux" design team is ready to accept your design orders and.
also you can consult with them freely.
The presented sample works is a guarantee to show that
website ArchitectLux design team is professional enough.